Vitaliy Mikitchenko AKA "Vit Viper" from VitTuned has been a longtime customer of ours and highly influential tuner in the S2000, 8th, 9th Gen Civic Si and BRZ / FR-S communities for years. Recently, he purchased a 2016 WRX for his next project test mule in his tuning adventures. When he told us he was looking to make some power, we knew just the parts to set him up with…
Vit took the time to do a writeup of his installation and tuning experience with his personal car. Vit tested our PRL Motorsports TGV Deletes & EGR Delete, PRL Motorsports Intake Kit & Charge Pipe Upgrade, PRL Motorsports J Pipe, PRL Motorsports Front Pipe, PRL Motorsports Front Mount Intercooler STM exhaust and ECUTek for tuning.
Pulled from Vit's blog (No longer available)
Blog Link:
2016 Subaru WRX DIT Platform Tuning & Parts Testing
"What a boring title… but I've got nothing catchy for the title as I gaze at my monitor through allergy induced tears and catching up on the "where's my toon bro" emails after a crazy week that involved 3 days of parts testing & tuning at the shop that pulled me away from my normal routine at the desktop computer. Yes there was a joke in there, I know my humor doesn't translate well on the interwebs at times so can I at least get a "Haha" before someone calls me an *******?
But down to business! We have ECUTek as our tuning software for all Subaru platforms, and this week our victim was the VitTuned 2016 Subaru WRX. Love them or hate them — I don't care, I enjoy working on a variety of platforms and Subaru is no different. I want to give PRL Motorsports a big shout out for supplying me with a full array of bolt ons to test on our car. This was also a great opportunity to break in the new AWD Dynapack setup at the shop.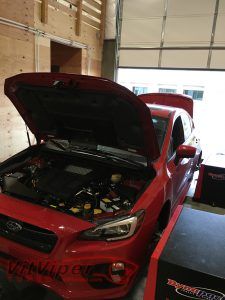 The parts we'll be using.
PRL Motorsports TGV Deletes & EGR Delete
PRL Motorsports Intake Kit & Charge Pipe Upgrade
PRL Motorsports J Pipe
PRL Motorsports Front Pipe
PRL Motorsports Front Mount Intercooler
STM Exhaust
I broke up the testing into 3 parts. First I did the car completely stock — just tuned it. Next I installed the intake upgrades (less the intercooler) and retuned. Finally I installed the full turbo-back exhaust setup and the front mount intercooler (you'll see why…).
All these tests were performed on our Oregon 92 octane. No extra ethanol blending at all.
Part 1 – Stock Tuned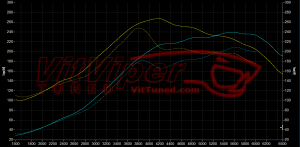 We're using a Dynapack — so obviously it's going to read super high and we're going to be seeing rated crank numbers at the hubs… right? LOL, right… Not on this Dynapack. With an AM (Advance Multiplier) of .88 we had a baseline of about 210whp. After spending some time retuning the car I got it up to 240whp and 265wtq. Not a bad gain at all for a stock car. I spent time mapping the dual cam timing system and found that the stock settings were pretty much spot on with the stock car. Most of the extra power was found in cleaning up the boost curve and raising boost targets — a little bit in the timing map, but not a whole lot as the motor was definitely a bit touchy on the pump gas.